So I have this little Collie habit …
I should have seen it coming – my family is full of packrats and collectors. But it all started innocently enough when I bought my first 2 Mosser Collies – Black Amethyst Satin and Green Opal – at a fundraiser to support Sheltie Rescue back in 1999.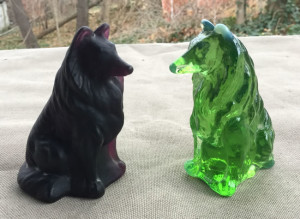 Those two collies sat on the shelf untouched for several years. Then shortly after my golden sable Sheltie passed on, I saw this Golden Opaline Mosser on eBay. It reminded me of her pretty golden coat and I just had to have it.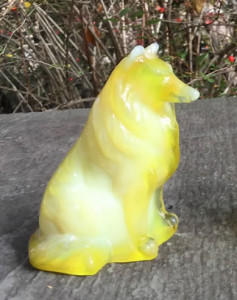 Not wanting to disrespect my plain, "little brown dog" sable Sheltie, this found its way into my house …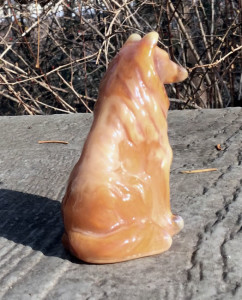 And I needed one to represent my mostly-white Sheltie … which to buy? I couldn't decide, so I got two …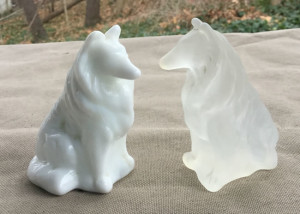 And so on, and so on, and so on. Hey – they're like potato chips, I dare you to stop at one!
Over the years, I've spent a lot of time researching my habit – there's not much information out there, so I'm sharing what I've learned on this site. Still, I consider myself more of a fangirl than an expert and I do like to get my facts right, so if you see anything that's been mis-stated, a color incorrectly identified or if you think of something additional that should be mentioned, please email me so I can make the necessary corrections!
And please follow the Glass Collie page on Facebook, for eBay listing alerts and more!
To learn more about Mosser glass or to buy new items, visit the official Mosser Glass website.
About My Articles & Photos
All photos and text on this site are under my copyright. You are more than welcome to LINK to my articles and/or photos or share links on social media (Facebook, Pinterest, Twitter, etc.) Copying and passing them off on your own site as yours? Not so much! I regularly run Copyscape checks and anyone I catch doing this will be on the receiving end of a C&D notice (and, if that is ignored, a DMCA takedown request.) Sorry, but I did the work, all I ask is that you give credit where credit is due. Fair enough?