Along with the standard shiny glass figurines, many colors of the Mosser Glass collies were manufactured in satin glass and/or carnival glass. But did you know that some were also made in combinations of two types of glass?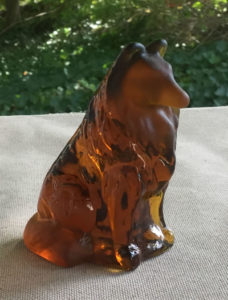 These "combo" figurines were made with a body of shiny glass, carnival or satin glass, and the head (and sometimes the feet and tail) in a different finish. Colors I've seen in this style include:
Amber
Cobalt
Emerald Green
Crystal
Black
Milk
Vaseline
The photo above is of an amber collie with a shiny glass body and a satin glass head and tail.
The amber ones frequently turn up on online auction sites like eBay, as do cobalt and emerald green from time to time. Like the handpainted Mossers, they do not attract a lot of attention from collectors, but they are really very pretty. The crystal variants are especially beautiful.