Along with the standard shiny glass figurines, many colors of the Mosser Glass collies were manufactured in satin glass and/or carnival glass. But did you know that some were also produced and sold in combinations of two different glass finishes?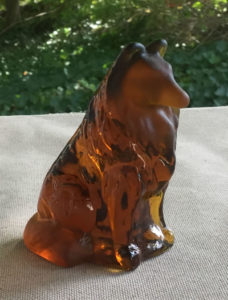 These "combo" figurines were made with a body of shiny glass, carnival or satin glass, and the head, feet and tail in a different finish.  Their origin is a bit of a mystery – I believe these were actually manufactured by Mosser but finished by Rosso Glass. Colors I've seen in this style include:
Amber
Cobalt
Emerald Green
Crystal
Black
Milk
Vaseline
The photo above is of an amber collie with a shiny glass body and a satin glass head and tail.
Emerald green with a satin body, clear glass head and tail: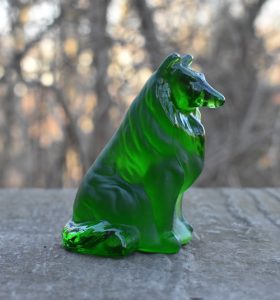 Emerald green with an iridized (carnival) body and satin head / tail: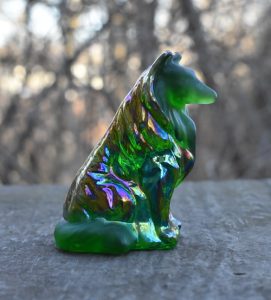 These turn up on eBay from time to time. Like the handpainted and sand carved Mossers, they do not attract a lot of attention from collectors, but they are really very pretty. The crystal variants are especially beautiful.