"What year was my collie made?"
Is your collie one of the older ones, or is it from one of the last years they were produced? It can be tricky to narrow age down to a year, especially for colors which were manufactured over a period of time, but there are a couple of ways that can help narrow it down.
Double "M"
In addition to the familiar "M" mark on the left side, collies made through 1980 were stamped with an "M" on the plunger mark on the base.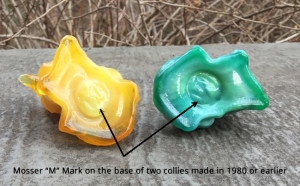 Recent collies were shipped with a paper sticker. These were often removed or they fell of and were lost. Here's one on the bottom of a Milk collie from the early 2000's.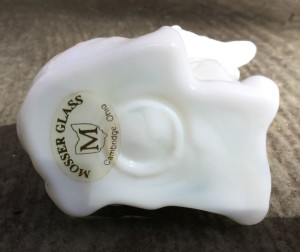 The capital "M" inside of the outline of the state of Ohio was one of three symbols the Mosser brand has used, the other two being a plain capital "M", and a capital "M" in a circle.
Determining the year by the color
More "hit and miss" is identification of the year by the color of the figure. This is more helpful for getting a ballpark age, since many popular colors were produced over a span of years. However there were some exotic colors and beautiful one-of-a-kind slags which were only produced in the early years.
The colors below, while also manufactured in other years (there are also the colors listed in the 2002 Mosser catalog), were the only colors still for sale in 2007 – the last year the collies were made:
Milk
Jadeite
Hunter Green Carnival
Green Opal
Crystal
Purple Carnival
Crystal Carnival
Red
Cranberry Ice
Vaseline
Cobalt
Source: Mosser Glass 2007 catalog
Four of the colors from the last year the collies were produced are shown below. I don't know what year the vaseline or jadeite collies were actually made, the green opal was one of the first two I bought in the late 1990's.