The miniature cup plates (Mosser #156) were manufactured from 1980 to 1988. These plates measure 3.5″ across and have a raised Mosser collie imprinted on the center. The rim of the plate reads "MOSSER GLASS CAMBRIDGE OHIO, and they have a scalloped edge. They were also made in the "sitting cat" design (Mosser #155) during the same years.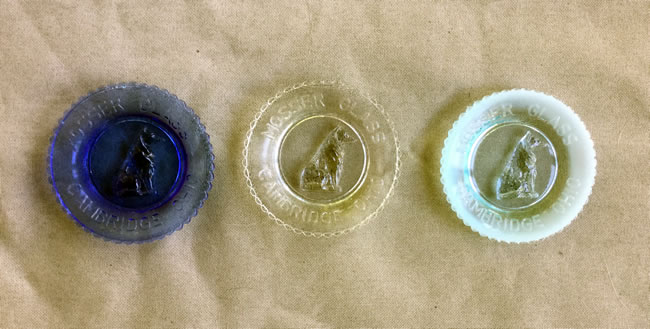 .
There were far fewer plates made than collies! They were made in 14 colors  – 3 types of windfrost, but none in a satin or iridized finish. The collie and the cat plates were both manufactured in the following colors:
Milk
Green Milk
Peachblo
Gold Crystal
Crystal
Chocolate
Blue Milk
Custard
Cobalt Windfrost
Royal Blue
Spindrift (Aqua Windfrost)
Red
Royal Blue Windfrost
Amber
Crystal is the easiest to find. Other colors do show up from time-to-time on eBay, occasionally sold as a collie / cat pair.
While prices have been increasing, despite their relative rarity, they usually sell for minimum bid on eBay. Prices generally range from $5-$20 but unusual colors  have recently run as high as around $50.