The miniature cup plates (Mosser #156) were manufactured from 1980 to 1988. These plates measure 3.5″ across and have a raised Mosser collie imprinted on the center. The rim of the plate reads "MOSSER GLASS CAMBRIDGE OHIO, and they have a scalloped edge. They were also made in the "sitting cat" design (Mosser #155) during the same years.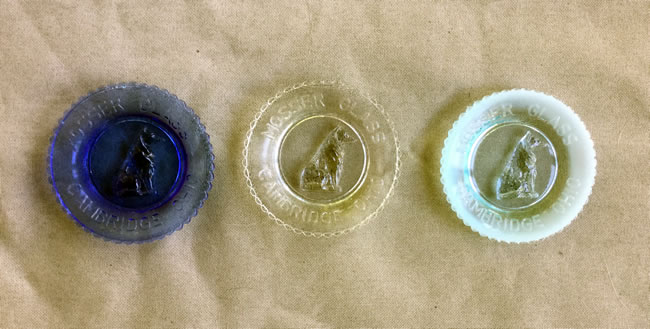 .
There were far fewer plates made than collies!  According to the manufacturer, they  were made in 14 colors  – including 3 colors of windfrost. There is at least one color of cat plates that was made in a satin finish, we have never seen a satin collie plate.  We have seen an crystal iridized plate but none in any other colors. The collie and the cat plates were both manufactured in the following colors:
Milk
Green Milk
Peachblo
Gold Crystal
Crystal
Chocolate
Blue Milk
Custard
Cobalt Windfrost
Royal Blue
Spindrift (Aqua Windfrost)
Red
Royal Blue Windfrost
Amber
Additionally, we have seen them in:
Emerald Green
Teal
Vaseline
This may still not be a complete list – unfortunately Mosser did not keep the best records during this time. Crystal and Milk are the easiest to find. Other colors do show up from time-to-time on eBay, occasionally sold as a collie / cat pair.
While prices have been increasing, despite their relative rarity, they usually sell for minimum bid on eBay. Prices generally range from $15-$25 but unusual colors  have recently run as high as around $50.