Mosser's "Sitting Cat" figurines were produced during approximately the same years as the collies. They were made in most of the same colors and more! If you're a fan of the beautiful slag glass collies of the 80's, you may find youself adding a kitty or two to your collection.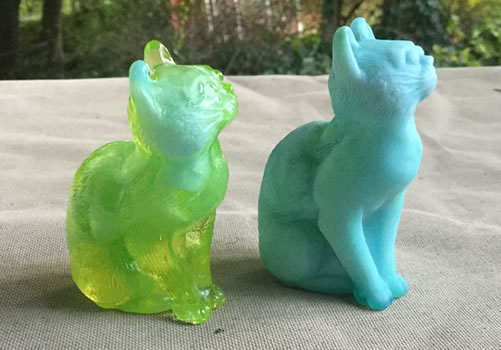 Although they are also discontinued, the demand for the sitting cat was historically not as high as for the Collies and the prices were quite reasonable. However in early 2023 viral photos on social media have skyrocketed their popularity, pushing sale prices as high as $350 for a single cat! We do not track prices as closely as we do the Collies, but prior to this we had yet to see bids for a single sitting cat top $50 and most sold for $20-$40. We do expect prices to come back down again, but no way of predicting when that will happen and perhaps they will never go quite as low as they were previously.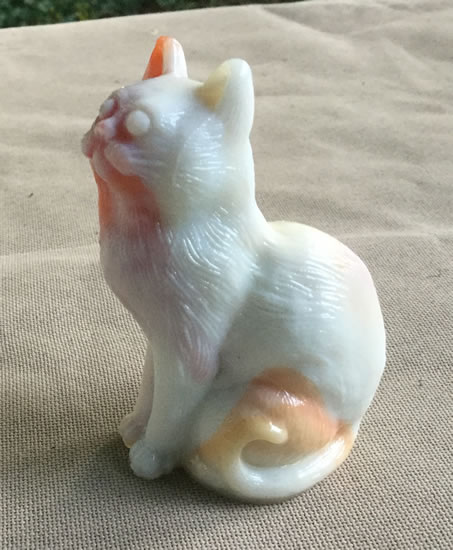 The sitting cat is highly detailed, with little bumps on the muzzle where the whiskers grow, and patterned fur. This short-haired cat is posed seated with its tail wrapped around its left side, looking inquisitively upwards towards the left.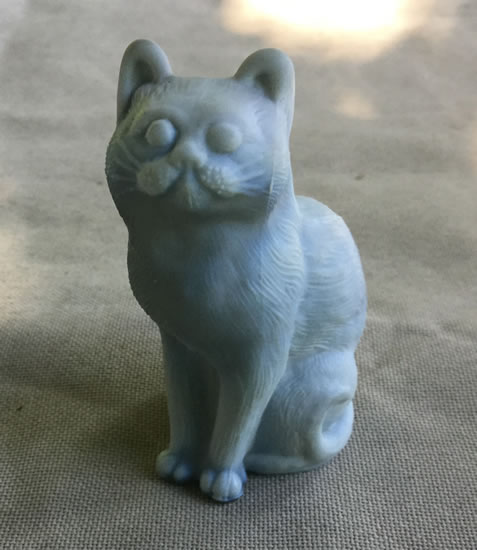 The Mosser "M" stamp can be found on the back at the base of the tail and, like the collies, the older kitties also sport an "M" mark on the pontil. Some of the cats have a little bubble of extra glass or a "notch" at the tip of the right ear – this is a manufacturing "glitch" and it's very common on these figures.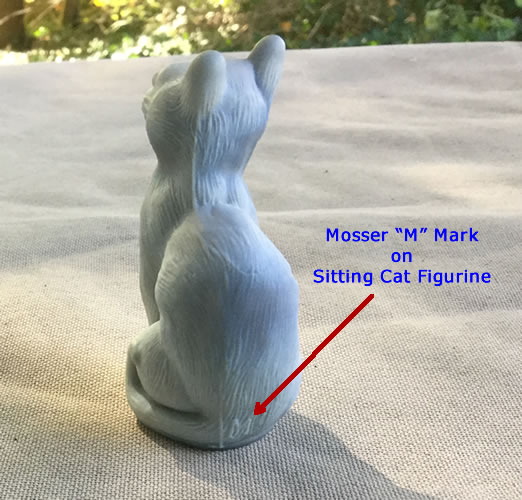 Other cat figurines made by Mosser Glass include a cat lying down (now retired), the "cat on a basket" salts, and a sitting "fluffy kitten", which is still being produced.
More information can be found on our sister site, GlassKitties.com.