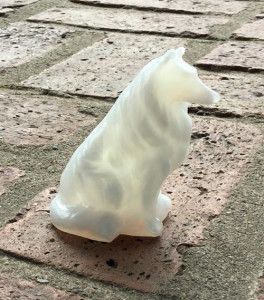 I've seen Mosser collies in a LOT of colors, but this is one I had never seen before. I believe it is "Crystal Windfrost."
Crystal, along with the more common Blue and highly collectible Pink, is listed as a color in which Windfrost collies were produced. This figure is similar in appearance to pictures I found of Mosser Ziggy and Pee Wee clowns in that color.
The collie is opaque white and translucent glass. The white is in the same pattern as on the more common blue windfrost collies. Unlike the similar Jenny / Josh figurines in "Snow Frost", the base color is translucent – not a clear crystal like the "crystal" collies. There is a very subtle hint of "blush" peach or pink in the base and face as seen in these photos. It does not have an "M" on the pontil, just the usual "M" on the left side behind the front leg.