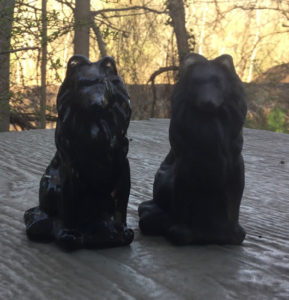 These Mosser collie figurines are Smoke and Smoke Satin. Smoke is similar to Black Magic, but if you hold it up to a light you can see transluscent gray through the ears, muzzle and base. It's also sometimes mistaken for Black Amethyst, but the latter is unmistakeably purple  against strong backlight.
The shiny glass smoke collie is still fairly easy to come by and usually not too pricey to acquire. Satin isn't as common, but neither seem to attract the bidding wars of some of the brighter colors.
Collectors tip – the smoke satin shows every speck of dust. To display it at its best, this is one for a closed cabinet.