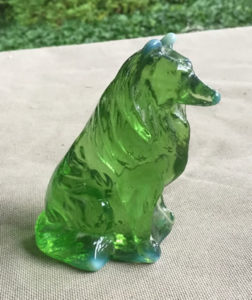 There are several types of art glass which are referred to as "opalescent."
In the Mosser Glass line, opalescent (aka "opal") glassware is clear or colored glass with white "highlights" on the surface or edges, such as on the rim of a glass. In the collie figurines, you can see the opalescence on the ears, feet and tail, and occasionally on the tip of the muzzle.
To produce this effect, the molded glass is partially cooled, then put back in the furnace and re-heated briefly. This causes heat-sensitive chemicals in the glass to turn a transluscent white.
Opalescence can be distinguished from slag glass by noting where the white color occurs. Opalescence is on the surface of the glass, not embedded within it. The Green Opal collie above shows the typical opalescent markings.
Crystal Opal Satin – Clear glass, opalescent with a satin finish. The opalescence is very subtle on this piece – you can see it best on the ears and nose tip: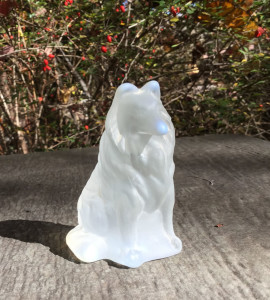 Opalescent Mosser Sitting Cats – Crystal Opal and Vaseline Opal: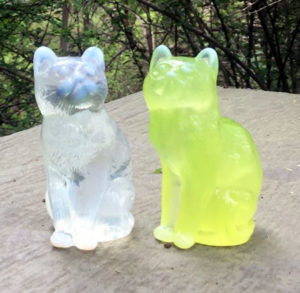 Just to be confusing, you can have opalescent slag glass, like this Plum Opal Slag collie: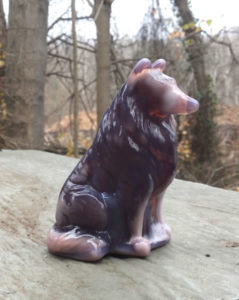 Opalescence should not be confused with Opaline glass, which is different.