satin glass
is characterized by its matte finish, similar to a swath of satin material. This texture is achieved through a chemical treatment – items are removed from the mold and the surface is exposed to vapors or a fine mist of hydrofluoric acid, uniformly etching the surface of the glass.
Overall, fewer Mosser collies were produced with this finish, making them relatively hard to find now that they are "retired." Satin glass Mossers were most frequently produced in transluscent colors, but the finish was occasionally applied to opaque / slag figurines, like the butterscotch slag in the image. If you're just starting to collect satins, Vaseline satin collies still turn up fairly often on eBay and are easy to pick up as a BIN or low-competition auction.
History and early production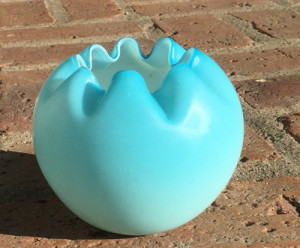 Satin glass was first produced in the 1880s, with two of the most notable manufactures being Thomas Webb in England and Mount Washington in the United States, both of whom produced art glass vases and other decorative items in a range of colors including Peachblow and Burmese. More utilitarian items included rose bowls and baskets, toothpick holders, jars and cruets. Some of this early satin glass was further hand-decorated with painted images, motifs and gold accents.
in the 1970's, the manufacture of satin glass was "revived" by the Fenton Art Glass Company. These newer items are also highly collectible.
Collector's Tips
Avoid excessive handling.Keep in mind that satin is a surface treatment. It's fine to pick your collies up to admire them, dust around them or move them now and then, but too much handling can wear away the finish, creating an undesirable shiny spot. They are also prone to acquiring scratch marks – especially noticeable on the lighter colors.
Even more than their shiny counterparts, satin glass collies in dark colors need backlighting to reveal their true colors.
Also known as "frosted" glass,